In From Ashes to Life: My Memories of the Holocaust, she tells the inspirational story of her life, beginning with her first awareness of the growing hostility toward Jews during her childhood in Hamburg, and ending with her new family and new life in the United States. It was a journey that began in 1933, when she was eight years old, a journey along which she suffered the horrible deaths of her father, mother, and sister.
From Ashes to Life details the demanding physical labor, frequent beatings, meager food rations, and frightful living conditions Lucille endured in the Lodz Ghetto, and later in the concentration camps.
In an act of quiet resistance, she memorized the names of forty-two Germans who operated several of the death camps. Her remarkable memory made her one of the most effective postwar trial witnesses.
This book is also available in German.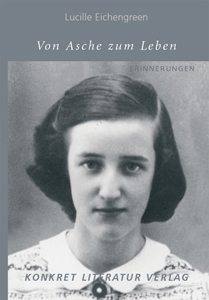 The ISNB is 978-3-89458-268-5
Please contact:
Konkret Literatur Verlag GmbH
Hoheluftchaussee 74
20253 Hamburg, Germany
Tel: 040-475234
Fax: 040-478415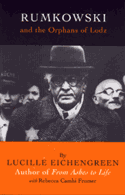 Rumkowski : And the Orphans of Lodz
is a chilling account of a young womanís experiences in the notorious Lodz Ghetto. The ghetto was lorded over by Chaim Rumkowski, Nazi-appointed Jewish Elder of Lodz and former head of the orphanage. Many have long hailed Rumkowski as a hero who did the best he could leading his community through the worst of circumstances. Now Lucille Eichengreen shares, with firsthand evidence, how Chaim Rumkowski flouted his authority through collaboration, corruption, and the abuse of its children.
If the idolators say: "Hand over one of you and we will kill him; or we will kill all of you." Then let all be killed but do not hand over even one soul of Israel.
From the Mishnah Torah by Maimonedes
"Formidable in its authority. It crashes in on the reader with absolute authenticity; one knows instantly that nothing here is 'made up', everything has been seen, smelled, endured, suffered ... I am harrowed by it ... the truth-telling, the economy, the spare moral cry of it." - Cynthia Ozick, author, The Shawl